Christmas Devotion - Day 13
13-12-2018 | Matthew Campbell | YOUTH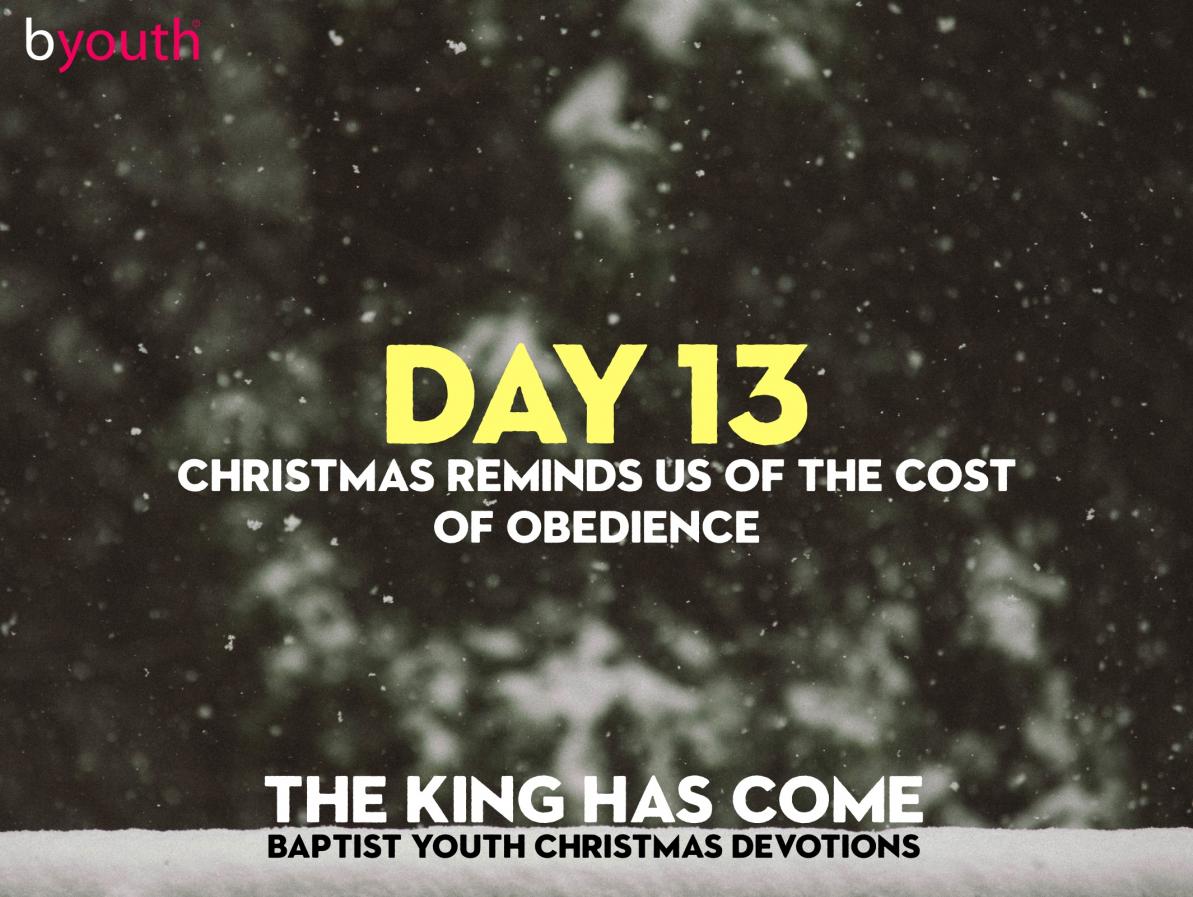 READ Matthew 1:18-25
I am a massive YouTube fan. If you're anything like me, you could find yourself wasting hours of the day watching YouTube clips if you're not careful. One of my favorite YouTube videos which you may have seen is the famous 'marshmallow test.' I would encourage you to watch it sometime today. The marshmallow test was a social experiment whereby young kids were placed, one by one, in an empty room with a marshmallow placed in front of them. The adult instructor, before leaving the room for a set period of time, gives the child one simple rule: 'Do not eat the marshmallow before I come back.' As the instructor leaves, you can see the visible struggle on the face of the children in an attempt to obey.
For some of the children, the temptation is too great and so they give in by eating the marshmallow right away. Yet, for the small minority, they manage to fight through their natural urges and avoid giving into the temptation. However, the plot twist comes at the end of the experiment. As it turns out, the children who managed to go through the entire experiment without eating the marshmallow, ended up getting two marshmallows (which they were allowed to eat).
This social experiment, besides being extremely entertaining to watch, teaches us 2 principles about obedience. Firstly, obedience is costly at the beginning. But secondly, and most importantly, obedience is for your long term good.
I can't help but think of these 2 principles when I read Matthew 1:18-25. On day 9, we considered Isaiah's prophecy regarding Mary and how, in spite of her virginity, she would bear a son - the Savior of the world. Luke, in his Gospel account, tells us how the angel Gabriel came to Mary and informed her that she would carry the Lord Jesus. Quite amazingly, Mary responds in immediate faithfulness declaring, "Behold, I am the servant of the Lord; let it be to me according to your word." However, what about the perspective of Joseph? Well, we read of some amazing characteristics Joseph possesses in our passage this morning.
Note that Mary and Joseph were 'betrothed' to be married (v18). The most similar cultural equivalent our society has is engagement. However, betrothal is slightly different in that it is legally binding. Can you imagine how Joseph must have felt upon hearing the news that his 'wife to be' had got pregnant? Joseph must have been heart broken! Keep in mind that, at this part of the story, no angel has visited Joseph. The only logical conclusion Joseph could come to is that Mary has been unfaithful.
But notice the sort of man Joseph is. The obvious solution is to end the relationship. But remember, betrothal was a legally binding commitment. Divorce would cause public shame to Mary. However, as far as Joseph's concerned, isn't that the least she deserves? She has broken her covenant with him! Remember, no angel has visited Joseph at this point of the story. Yet, this is where we see some of the godly characteristics of Joseph. Heartbroken though he is, Matthew tells us that Joseph was a 'just man' and 'unwilling to put Mary to shame.' What does he do? He seeks to divorce her in secret. Joseph is the epitome of grace.
It's only now, in verses 20-23, that the angel appears to Joseph, confirming what had really happened to Mary. Notice the parallel between Joseph's response to the angel with that of Mary's. He too responds with immediate obedience. He 'did as the angel of the Lord commanded him: he took his wife..' (v24).
Can you imagine the scandal? Mary and Joseph would have been the talk of the town! Not simply among the commoners, but probably even among God's own people. You can only imagine the sort of things people would say about Mary's unfaithfulness as well as Joseph's contempt for how God designed marriage to be. Their reputations were, no doubt, in pieces. Obedience was extremely costly.
Quite often, obedience to God is very natural to us when it doesn't cost us anything. However, the moment something we cherish is at stake (eg. our reputation / wealth etc.), our obedience to God ceases. There is no hesitation in either Mary or Joseph's response. In spite of the great cost of being obedient, both immediately did as the Lord commanded.
However, not only was obedience costly, it would give way to great joy. It was ultimately for their long term benefit. The angel's encounter with both Mary and Joseph revealed, not just the cost of obedience, but the purpose for which it was required. The angel shares with Joseph that amazing prophecy from Isaiah that we saw on day 9, as well as telling him that this Son, born of the Holy Spirit, would 'save his people from their sins' (v21). What a privilege both Mary and Joseph had.
Obedience to God is always for a greater good. Oftentimes, unlike Mary and Joseph, we are not told what that greater good will be. But when we can not see the hand of God, we can always trust the heart of God. His plans are always to prosper and his ways are always perfect. Will you step out in radical obedience for him today?
Questions for reflection
1) How far will you allow your obedience of God to go? Are you willing, like Mary and Joseph, to obey God at the cost of your reputation? What about at the cost of your finances / relationships etc?
2) Where in your life can you see that obedience has been costly, yet for your ultimate good?
3) When we can not see the hand of God, we can trust the heart of God. How does this encourage you today?

Prayer for today:
God, I pray that when I cannot see your hand, I will trust your heart. Thank you for the example of people in Scripture who epitomize what it means to be obedient to you in spite of what it may cost. Father, will you give me the faith and ability to be radically obedient to you, even if it costs me the things I tend to cherish most on this earth. Today, will you fill me by your Spirit and equip me with your truth so that I may walk like Christ did - in ultimate submission and obedience to your divine will.