Christmas Devotion - Day 20
20-12-2018 | Alex Donaldson | YOUTH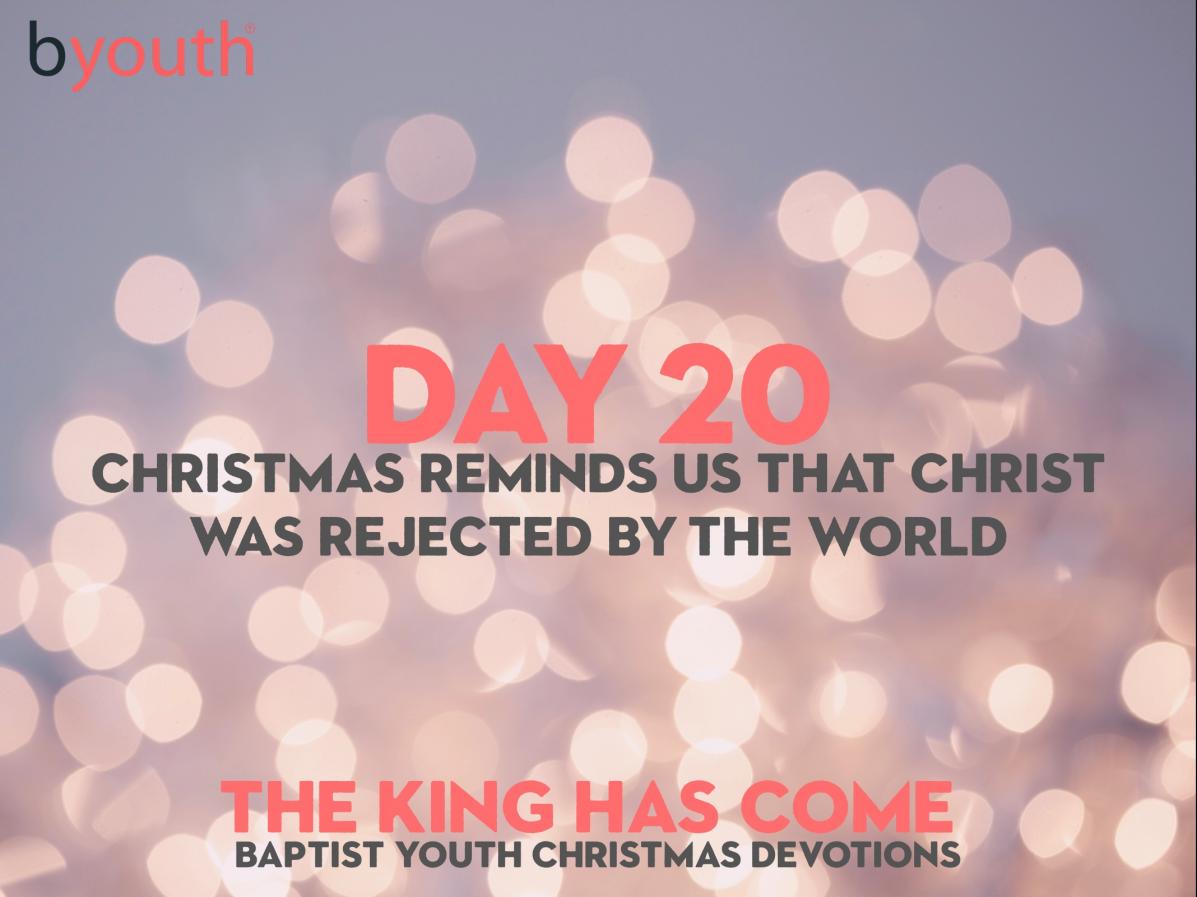 1 John v 10-11
10 He was in the world, and the world was made through him, yet the world did not know him. 11 He came to his own, and his own people did not receive him.
By Alex Donaldson
It can be difficult when our ideas aren't accepted by others. Maybe you've handed in a school project with some ideas that you believe to be the most creative you've ever come up with. However, you get the mark back and discover that it's not quite as good as you had hoped. In that moment, you feel crushed. I'm sure many of us can relate to this kind of feeling. Although, did you know that even some of the most successful people in history have had this exact experience? I'm sure many of you have read the Harry Potter series of books. It is estimated that they have sold over 400 million copies worldwide. Yet the author, J.K Rowling, suffered her own personal rejection when she tried to pitch her first book. Her pitch was not only rejected once, but 12 times by 12 different publishers before, finally, on the 13th attempt it was accepted. There are now 8 movies based on J.K Rowling's books and she has gone on to be one of the most well-known authors in the history of the world. She was rejected but didn't let that stop her achieving her goal.
In todays passage and in many other verses throughout the Bible, we see that Christ has experienced rejection like no one else. How so? Christ was not merely rejected by a few people but the entirety of mankind. 1 John 11 says "He came to his own, and his own people did not receive him." Not only was Christ rejected, but he was rejected by the very people he came to save.
For Jesus, however, it gets even worse. Not only was Jesus rejected by his own, he also physically suffered on their behalf. Luke 17 v 25 says "But first He must suffer many things and be rejected by this generation." Ultimately, this suffering would come to a climax on the cross, where Jesus would face the most excruciating pain known to man. It is impossible to even comprehend God's love demonstrated towards us in allowing His own Son to suffer in this way.
What does this mean for us? Well, just as Jesus was willingly rejected for you, will you willingly allow yourself to be rejected for him? Jesus says to those who follow him, 'just as the world hated me, so it will hate you.' Time and time again, when Jesus tells people to follow him, he warns them of the cost. It involves taking up your cross daily. It may involve losing your own father and mother. It involves abandoning your inclination to cling to earthly comforts. We must anticipate and expect rejection as part of the experience of sharing Christ in this sinful world.
At this point, you perhaps feel overwhelmed at the thought of the cost associated with following Christ. However, consider this quote from John Piper,
"Sin promises short-term pleasure but ends in long-term misery. Christ promises short-term hardship but that results in everlasting happiness"
We may be rejected now but there is greater acceptance for us in heaven. As Paul says in Romans 8:17, 'we are heirs with Christ, provided we suffer with him in order that we may also be glorified with him.' It is only through our present suffering that our future glory is all the more sweet. Just as Christ was rejected, so we will be rejected. However, Is it worth it? You better believe it!
Questions For Reflection
1) Jesus suffered at the hands of those he created. How does this give you a fresh appreciation for the incarnation this morning?
2) In what areas of your life do you find yourself being rejected for following Jesus?
3) Read John Piper's quote again. How does this hope of heaven motivate you to count the cost of following Jesus today?

Prayer for today:
God, Thank you for the compassion and mercy shown toward me because of the rejection your Son. I recognise that I am a sinner and it's only through you I have been set free - help me to remember this amazing blessing every day. Thank you that, while my faith may be rejected today, there is a greater acceptance awaiting me in Heaven. I pray that I will use this to devote my time towards the expansion of your kingdom and that I can be used to spread your gospel to those who may not yet be fortunate enough to have heard it. Amen.