Christmas Devotion - Day 4
04-12-2018 | Matthew Campbell | YOUTH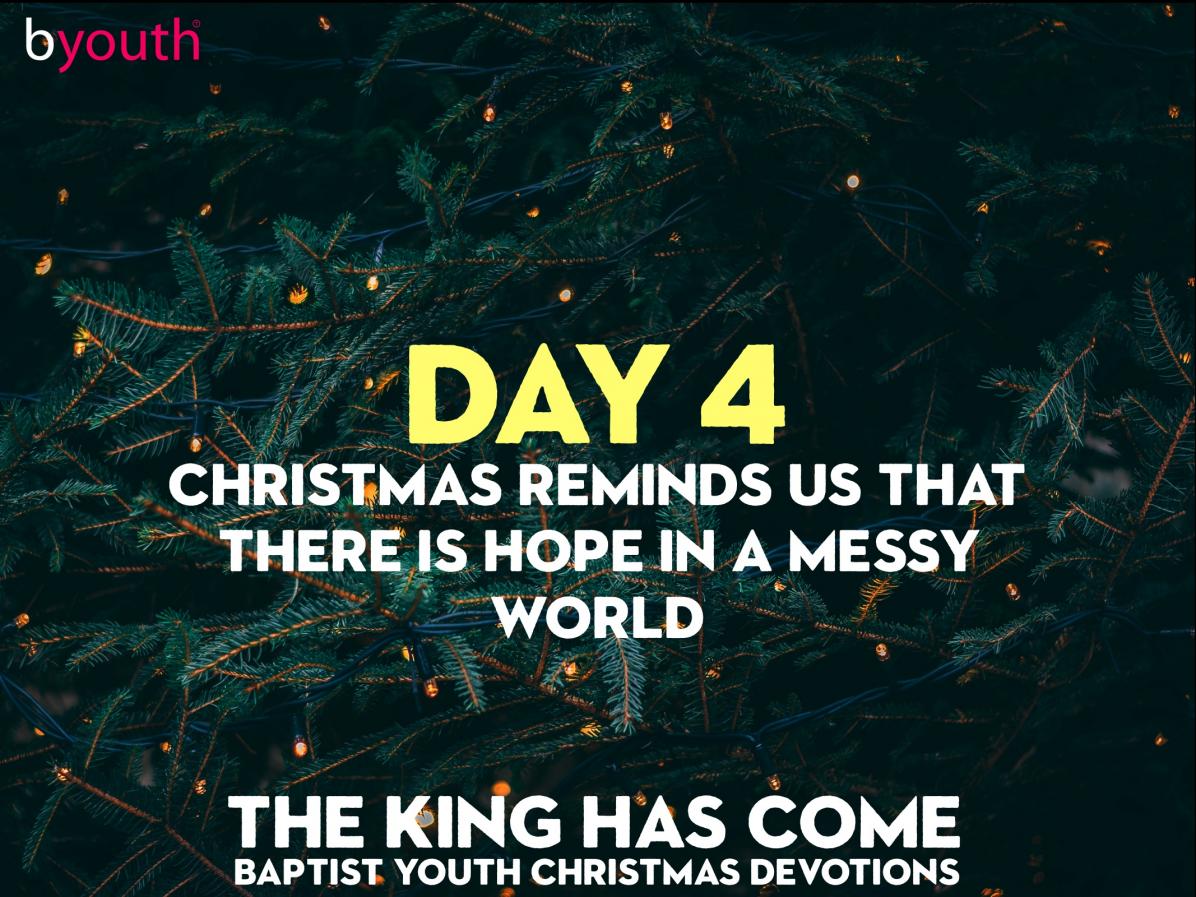 Isaiah 9:6-7
6 For to us a child is born, to us a son is given; and the government shall be upon his shoulder, and his name shall be called Wonderful Counselor, Mighty God, Everlasting Father, Prince of Peace.7 Of the increase of his government and of peace there will be no end, on the throne of David and over his kingdom, to establish it and to uphold it with justice and with righteousness from this time forth and forevermore. The zeal of the Lord of hosts will do this.
When I was at school, as soon as Summer ended I couldn't wait for Christmas. I loved everything about it. I loved the turkey. I loved the presents. I loved the holidays. It acted as something to look forward to throughout the mundane routine of going to class and studying. The truth is, by the time November came, I already felt like I was drowning in an endless amount of work that seemed impossible to get finished, not to mention the ever conscious thought in my mind of exams which loomed early in the new year - exams that I felt desperately unprepared for. In the midst of my seemingly messy and hopeless situation, Christmas acted as some sort of respite, or at the very least, something to look forward to.
The sort of hope which Christmas characterized for me in my school days, however, is only a fraction of the real hope Christmas truly embodies, not least to the people of Israel upon receiving the words of the prophet Isaiah. At the time this prophecy is given, some 700 years before Jesus birth, the people of Israel are under pressure. The threat of invasion from the ever growing superpower of Assyria was real (chapter 8). However, what is perhaps more shocking is that this is exactly what the people of Israel deserve! The message of the prophet Isaiah in these early chapters is one of rebuke to God's people for their idolatry and rebellion. The Assyrian army, then, is a judgement sent from God to Israel for their wickedness.
However, chapter 9 brings hope for God's people. Because of His promise to David, after this Assyrian destruction, God will send a new King called 'Immanuel,' meaning 'God with us.' Immanuel's kingdom is going to set God's people free from violent oppressive empires. This is the King who is promised to come from David's family. His kingdom will transform all creation, bringing peace. What will this king be like? Well, he is given 4 names in verse 6, each of which we will explore in coming days. These verses act as a reminder that the coming Messiah offers hope in a messy world, a messy world which we have contributed to.
As you turn on the news, read the newspaper, or perhaps read the BBC news app on your phone today; how does it make you feel? Discouraged about the state of the world? Overwhelmed by the blatant displays of sin in our land? Worried about where our current set of circumstances could lead us in the future? Let the message of Christmas and Isaiah 9 remind you that, in spite of the messy world in which we live, Jesus came to make us part of a far greater Kingdom. As New Testament believers we have the finished work of the cross behind us and the future hope of glory ahead of us. This hope is, as Paul describes in 2 Corinthians 4:18, eternal and imperishable.
Questions for Reflection:
1) Take a look at the BBC news app on your phone this morning. As you read each of the headlines, how many of them act as evidence that we live in a messy world?
2) The people of Israel in Isaiah's time have done nothing but disobey God. Yet, in chapter 9 we see this amazing promise that God will send a great King called Immanuel. What does this tell you about God? How does this encourage you today?
3) As a Christian, how does this passage give you confidence today amidst the messy situations you may find yourself in?

Prayer for today:
God, thank you that Christmas reminds me of the fact that there is hope in a messy world. Just as your first coming was in the context of an evil world, so too will your second coming be. Help me not to lose heart as I look to the current state of our world and the uncertainty in society. Rather, may it all the more cause me to lift my eyes to the greater Kingdom, the one which Immanuel rules over. May my thoughts, words and actions today be a reflection of the hope given to me in Christ.