Christmas Devotion - Day 7
07-12-2018 | Matthew Campbell | YOUTH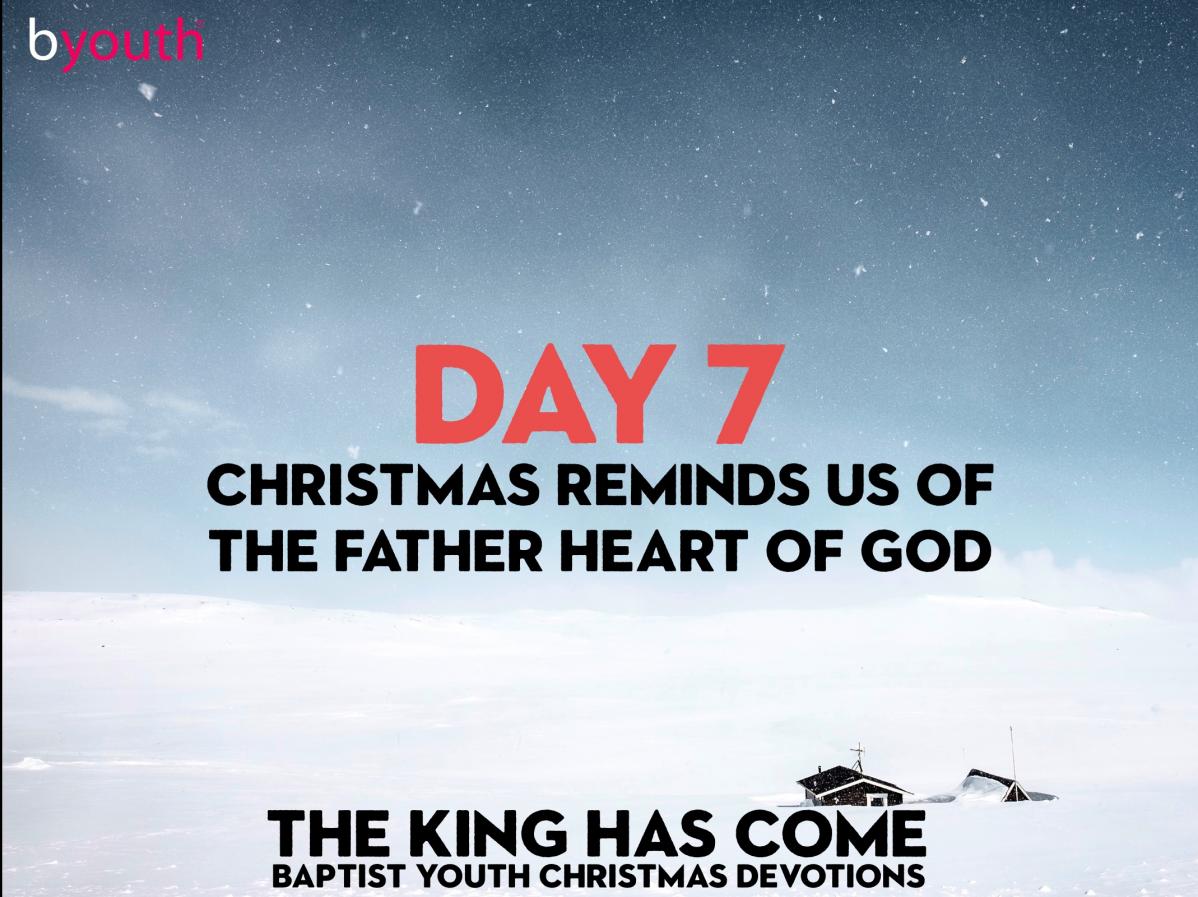 Isaiah 9:6
6 For to us a child is born, to us a son is given; and the government shall be upon his shoulder, and his name shall be called Wonderful Counselor, Mighty God, Everlasting Father, Prince of Peace.
On 7 December, 1988, an earthquake devastated the northwestern section of Armenia, killing an estimated 25,000 people. Take a look at one particular story recorded in a Crossway tract regarding this event:
"In one small town, just after the earthquake, a father rushed to his son's school only to find that the school had been flattened. There was no sign of life. But he had no thought of turning back. He had often told his son, 'No matter what, I'll always be there for you when you need me!'
Though his prospects appeared hopeless, the father began feverishly removing rubble from where he believed his son's classroom had been. Other forlorn parents only wailed hopelessly…"My son!" or "My daughter!" Some told the father to go home, that there was no chance that any of the children could be alive. Yet, he replied: "I made my son a promise that I'd be there for him anytime he needed me. I must continue to dig." Courageously, he worked alone; no one volunteered to help him. He simply had to know for himself: "Is my boy alive or is he dead?" Finding strength and endurance beyond himself, the faithful, loving father continued to dig...for 8 hours...12...24...36 hours. Then in the 38th hour, as he heaved away a heavy piece of rubble, he heard voices. "Armand!" he screamed.
A child's voice responded: "Dad! It's me...Armand!" Then, "I told the other kids not to worry. I told them that if you were alive, you'd save me, and when you saved me, they'd be saved. You promised you would always be there for me! You did it, Dad!" Moments later, the dad was helping his son Armand and 13 more frightened, hungry, and thirsty boys and girls climb out of the debris. Free at last! When the building collapsed, these children had been spared in a tent-like pocket.
When the townspeople praised Armand's dad, his explanation was, "I promised my son, 'No matter what, I'll be there for you!'"
It's a pretty amazing story, isn't it? More clearly than nearly any story I know, this account reminds me of the love of a father towards his child. But do you know, the fatherly love displayed by this Armenian is just a fraction of the fatherly love that Jesus has for you? In Isaiah 9:6, the next description this great prophet gives of the coming Jesus, is that he would be an 'everlasting father.'
I'll be totally honest, when I first read this line, I got a little confused. Isn't it wrong to describe Jesus as a father? I mean, Jesus (we're always told) is the second person of the trinity. It's the first person of the trinity who is referred to as the Father. Jesus, on the other hand, is always referred to as the son. How, then, does Isaiah tell us that Jesus will be the everlasting father? Is he somehow muddling the trinity?
Of course the answer is no. It's not Jesus' role within the Godhead that Isaiah is referring to here; rather, his Isaiah is referring to Jesus' character. Even though Jesus is the incarnate son, he exhibits father like qualities towards us. Think of the qualities of a good father. He is someone who loves, protects, cares, provides and sacrifices. These are all the things that Jesus does for us in abundance. Yet note, Jesus isn't just our father, Isaiah tells us that he is our 'everlasting father.' In other words, Jesus' fatherhood will be without end! What an amazing thought that is!
The apostle Paul gives us some sort of insight to the eternal love of God. He says in Romans 8:38 - 'Nothing can separate us from the love of God, not even death or life..'
Quite often, we as humans strive for the love and approval of others. Isn't it strange how much our actions and words can be dictated by getting others to 'love' us? However, the problem with this type of love from the crowd is that it's brittle. Their love for you is dependent on what you do today and you can only hope that it will last until tomorrow. Jesus' love for you, however, is altogether different. His is a love like no other, in that, it not only lasts for eternity but it has eternal consequences - he is your Everlasting Father! Endeavour today, not to strive over the fleeting love of man, but rather to rest in the eternal and fatherly love of Jesus.
Questions for reflection:
1) Think of some examples in the New Testament where Jesus demonstrates father-like qualities to others. How does this cause you to praise Him today?

2) When are you tempted to wrongly seek the love of others? How is Jesus' love different and, as a result, liberating for those who follow him?

3) 'The love of Jesus is eternal and has eternal consequences.' Spend some time thinking about this and pray that it would win your heart today.

Prayer for today
Father, thank you for todays reminder of the father-like love of Jesus. Thank you that, in spite of the marred demonstrations of love we have in our lives, Jesus' love for me is ultimate, perfect and eternal. Help me not to strive for the acceptance of others but rather rest in the eternal and unchanging love of Jesus Christ who I seek to serve today.