Christmas Devotion - Day 8
08-12-2018 | Matthew Campbell | YOUTH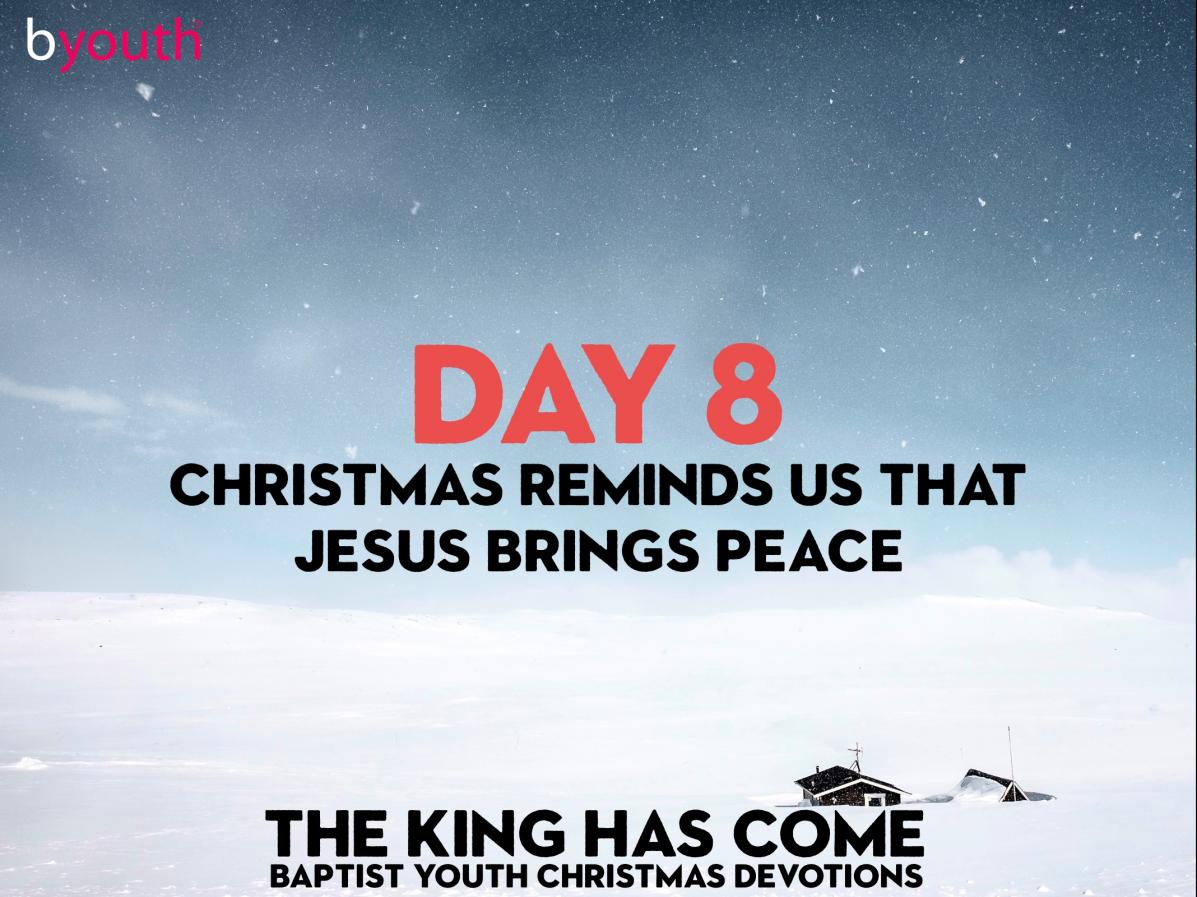 Isaiah 9:6
6 For to us a child is born, to us a son is given; and the government shall be upon his shoulder, and his name shall be called Wonderful Counselor, Mighty God, Everlasting Father, Prince of Peace.
One of my favorite shows on TV is 'The Apprentice.' Hosted by Alan Sugar, the show involves a series of eager eyed contestants participating in 12 weeks of business related challenges in order to prove that they have what it takes to become Lord Sugars next business partner. One of the things I particularly love about the show is seeing these, often arrogant, contestants get put in their place. It never ceases to amaze me how, each year, nearly every contestant will come on the show with their extravagant claims about what they are going to do and how they are going to change the world. Yet, with nearly every single contestant on The Apprentice, those claims prove to be false. It isn't too long before, one by one, Lord Sugar exposes the blatant weaknesses in each candidate's repertoire and often the lies in their CV's. The reality is, these contestants can talk a good game, but when push comes to shove, they rarely back up their claims and deliver.
Upon first reading of Isaiah 9:6, the same accusation might be made against the great prophet Isaiah. Here, he waxes eloquent about everything the Lord Jesus is going to do. He tells us how he's going to be a wonderful counsellor. He tells us how he is going to be a mighty God and an everlasting father. Finally, then, he claims that this Jesus is going to be the 'Prince of peace.' This, indeed, is a bold claim about what this Jesus is going to do, especially considering it's made 700 years before he's even born.
And the reality is, sitting here in 2018, a couple thousand years after Jesus came to earth, how would the average person on the street respond if you told them that this Jesus who came was the prince of peace? He's come and gone, thousands of years have passed and there's still no peace. In fact, much of the cause for unrest and divisiveness in the world is, some might say, because of people like Jesus Christ, as wars based on religious means continue to take place. How on earth can Jesus promise to be the prince of peace? Looking back, it sounds as if he's just like one of those arrogant Apprentice contestants who promises everything and delivers nothing.
However, when Isaiah promises that Jesus will be the prince of peace, does that mean he has come to bring some sort of total earthly ceasefire? Absolutely not! In fact, Jesus himself tells us that, after his leaving, there would continue to be 'wars and rumors of wars' and 'nation will rage against nation' (Matt 24:6-7). Jesus leaves us in no doubt that, even when he ascends to heaven after his earthly ministry, we are still living in a fallen world and all will not be right until the new heavens and new earth.
What, then, does Isaiah mean when he prophecies that Jesus would be the 'prince of peace?' Well, the peace that Jesus offers is altogether more significant! Jesus offers us peace with God!! (Romans 5:1).
If you were to do a survey of our land and ask people, 'what is the greatest problem in the world?' Or, 'what would make the world a better place?' I would imagine that the majority of people, with the range of responses they offer, would say something along the lines of 'The world will be a better place when there is peace among people!' Maybe when all violence ceases? Maybe when all hatred stops? Maybe when all discrimination against particular people groups end? Indeed, attempting to stop these things are very worthwhile causes. However, the Bible teaches that they are by no means the world's greatest problem. Our primary problem isn't our hostility with each other. Our primary problem is our hostility with God!
Jesus didn't come to make naughty people nice, Jesus came to make dead people alive. Can Jesus cause peace among people? Absolutely! And the Bible gives us an amazing picture about the day when that will happen in Revelation 21-22, in the new heavens and the new earth. But Jesus, as the prince of peace, came primarily to reconcile the broken relationship between a holy God and a sinful people. Can there possibly be anything more comforting today than to know that you have peace with the God who created you - the God who you will one day stand before in judgement? What an amazing thought. Because of Jesus, as Paul says in Romans 8, there is now 'no condemnation' for those who are in Christ Jesus.
Take comfort, then, this Christmas. When you turn on the news and see more and more hostility, never think that God has somehow lost control. Never let it cause to believe that the Jesus of Christmas is like those Apprentice contestants who promise everything but deliver nothing! The reality is, Jesus came to give us something so much greater than peace with our neighbor! He came to give us peace with our God!
Questions for Reflection:
1) Which of the 4 titles given to Jesus from the prophet Isaiah, which we have looked at the last 4 mornings, most resonates with you?
2) How will the fact that 'peace with God' is far superior to 'peace with man' affect your decisions / conversations today?
3) Read and meditate on Romans 8:1-3. If you are a believer in the Lord Jesus, you have total peace with God. He will not use any of your previous sins or past history against you. How does this liberate you to serve God with gratitude today?

Prayer for today
God, thank you for the coming of Jesus at Christmas. Thank you that Jesus is the prince of peace and came for a far greater reason than simply to solve our relational conflict. Rather, thank you that Jesus came to rescue me from my greatest problem, my sin. Help me to take confidence today, that, whatever difficulties or hostility I may face in my everyday relationships and circumstances, Jesus has came to restore the one relationship that truly matters - my relationship with the God who created me.