Christmas Devotion - Day 9
09-12-2018 | Matthew Campbell | YOUTH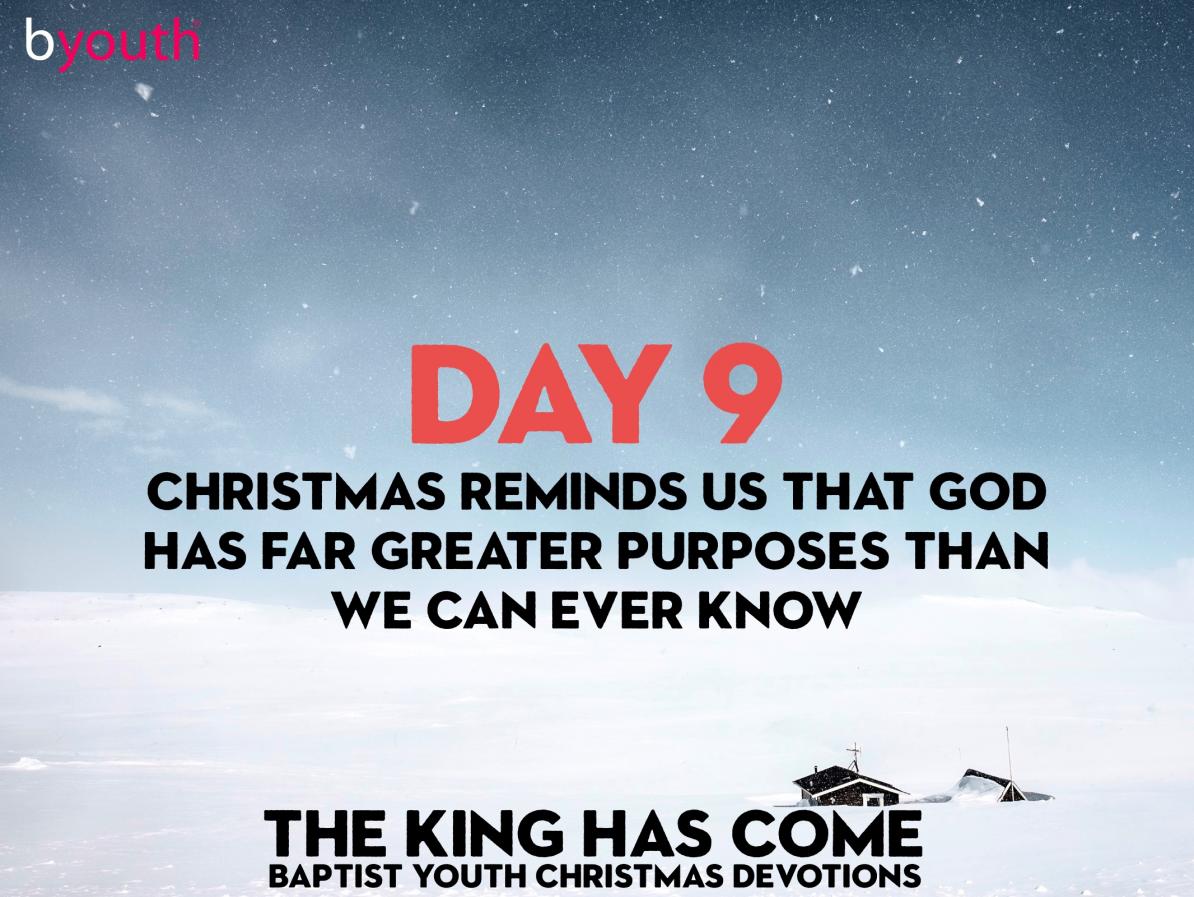 Isaiah 7:14
14 Therefore the Lord himself will give you a sign. Behold, the virgin shall conceive and bear a son, and shall call his name Immanuel.
I wonder have you ever seen the people on the street (typically in a city like Dublin or London) who wear big signs which point to a particular restaurant. Yes, you read that right - they don't hold the sign, they wear the sign. Sometimes, however, it can be even more extravagant than that. In some cases, these poor employees have to dress up as something in order to get the public's attention. I vividly remember seeing a man standing in the centre of London dressed as a chicken, whilst holding a sign saying 'Great chicken restaurant this way.' Every time I walk past one of these people, I can't help but think, 'how embarrassing must that be.' However, the embarrassment of the individual in that instance is necessary in order to serve a larger purpose - the sales revenue of the restaurant they are representing.
In Isaiah 7:14, we see the prophecy of someone else who would carry a sign. However, this sign would be far more embarrassing than that of these poor employees we have just mentioned. Rather, this individual would suffer the ultimate cultural humiliation - conceiving a child out of wedlock in a shame culture. Yet, as we will see, this sign was also necessary in order to serve a larger purpose!
Later in our devotions, we'll look at the moment Mary was told she would be the person involved in this scandal. In the mean time, however, notice yet again the precision in God's plan. Here we have yet another prophet, speaking hundreds of years before Jesus would even set foot on this earth, telling of exactly how this Messiah would be born. Indeed, this birth would be unconventional to say the least - Jesus would be born to a virgin.
Have you ever wondered, 'why did Jesus have to be born of a virgin?' There are, no doubt, numerous reasons. However, I love the one offered from David Mathis in a recent article he wrote on this particular issue. He says,
'the virgin birth shows that humanity needs redeeming that it can't bring about for itself. The fact that the human race couldn't produce its own redeemer implies that its sin and guilt are profound and that its savior must come from outside.'
Isn't that amazing? We are so broken and corrupt as a human race, we are so helpless in and of ourselves that there is nothing we can do as human beings in order to bring about restoration for ourselves. We simply needed God to intervene - the virgin birth, then, is all a part of God's rescue plan.
And yet, here we see that this rescue plan wasn't some sort of thrown together, frantic attempt at saving humanity. Rather, it was a special, planned and distinctive act of God's sovereignty. The event was so planned that even the prophet Isaiah, some 700 years before it, was able to foretell its occurrence. However, the reproach and embarrassment that Mary would suffer, as Mathis reminds, would serve a far greater purpose in God's plan of redemption.
Let's be honest. The role that Mary was going to be asked to play in this plan was very difficult. However, Isaiah's prophecy here reminds us that God's glorious purposes far outweigh our limited perspectives. In spite of our often difficult and confusing circumstances, God is always at a greater work behind the scenes. He is like the master chess player and we are mere pawns, being ushered exactly where he needs us to be for his glory.
Where in your life today do you need to allow your perspective to be trumped by God's purpose? Unfortunately, unlike Mary, we don't always get to see exactly what God is doing behind the scenes. Oftentimes that won't be revealed to us until heaven. However, we know from Scriptures and experience that God is working all things together for our good according to his purpose (Rom 8:28). Are you battling sickness? Loss of a loved one? Broken relationships? Stressful circumstances? Ask God to give you the ability to walk by faith and not by sight today, in the knowledge that he has far greater purposes than we can ever know or imagine.
Questions for reflection
1) If someone was to ask you, 'why is the virgin birth significant?' How would you respond to them?
2) As you reflect on your life, what areas can you now see God was working in that you couldn't see at the time?
3) What current difficulties are you facing where you don't understand what God is doing? Where in your life right now do you need to walk by faith and not by sight?

Prayer for today
God, as I read Isaiah 7:14 this morning, I praise you for your amazing providence. Thank you that, with you, there are no accidents or events that somehow escape your control. Forgive me when I fail to acknowledge your greater purposes in my difficult circumstances. Today, would you give me the faith I need in order to face life's struggles in the knowledge that you hold the world in your hands and that, for those who love you, you are working all things together for a cosmic good.