Easter Devotion - Day 1
15-04-2019 | Matthew Campbell | YOUTH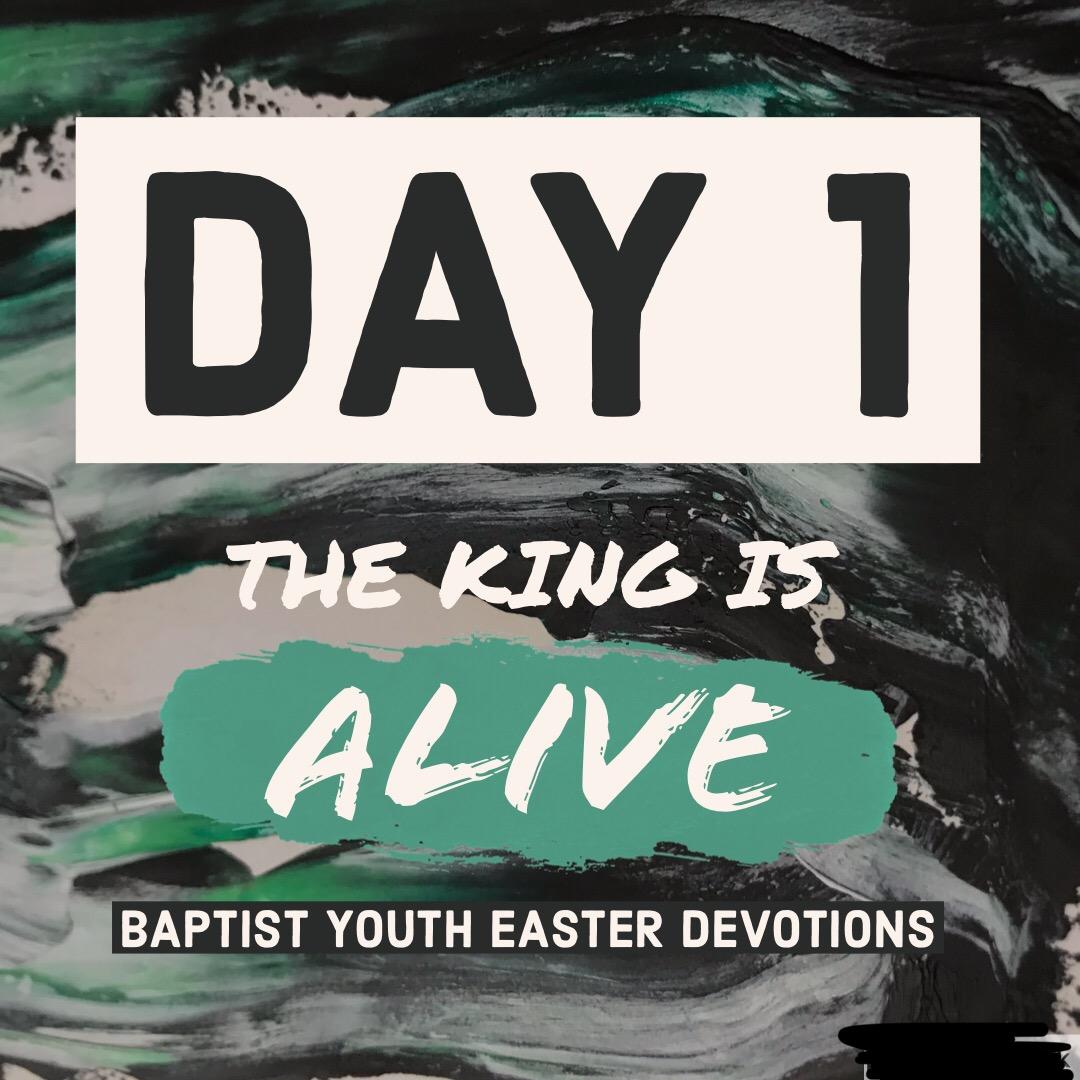 Day 1 - Who is worthy?
Read Revelation 5
A couple of years ago, I found myself in an awkward position. Looking for a new venue to host one of our Baptist Youth camps the following Summer, I organized a visit to a school who had kindly offered to show us around their premises. As I arrived at the school with a couple of the other camp leaders, we were immediately blown away by how well they treated us! As we drove through the school gates, we were ushered by prefects into the car park and led to a parking space which was specially reserved with our name on it! As we stepped out of the car, I joked to one of the camp leaders about how we were being treated like royalty - but this was just the beginning!
As the prefect led us to the front door, we were then greeted by the school's head boy and head girl. They gave us fancy lanyards to wear around our necks and instructed us to follow them. They led us directly to a fancy room which was filled with the most amazing smell of delicious food. As I looked up, we were surrounded by tables upon tables of hot food, scones, desserts and hot drinks. 'Eat away,' the woman behind the table said, 'this is all for you.' We turned to each other, feeling very important at this point, smiled in amazement and started filling our mouths with food.
After about 5 minutes of gorging, another group of gentlemen joined us in the room. However, these men looked very sharp. They were dressed in suits and were carrying briefcases. As soon as they turned up, I could see the confusion on the face of the catering staff, head boy and prefects. To cut a long story short, it turned out that all the luxurious treatment the school had put in place wasn't meant to be for us at all. In fact, they had mistaken us for the group of school principles and education board members who had a very important meeting that same morning. Upon the embarrassing realization that we had taken their car parking spaces, wore their lanyards, stolen their welcome and eaten half of their food; we sheepishly walked out of the room with our mouths still half full of scones.
It was a humbling experience for the group of us that morning to discover that we, in actual fact, were not at all worthy of all the amazing treatment we had received. In todays passage, however, we are shown that unworthiness is a problem that we all face. In fact, whether you are a normal member of society, or a high ranking official with earthly power and prestige; even you suffer from unworthiness. The apostle John communicates that unworthiness to us in the vision he receives in Revelation 5.
Notice,
The Human Problem (v1-4)
It can be easy to get lost in all the imagery and symbolism. However, the picture here is that John has been given a vision of the heavenly realm. What does he see in the chapter before this? He sees God sitting on His throne reigning in glory and power. But here we encounter a problem. An angel asks a very important question in verse 2 - 'Who is worthy to open the scroll and break its seals?' The answer? 'No one in heaven or in earth is worthy' (v3). Why is this such a big deal? Well, remember who is holding the scroll - God! This imagery is signifying something much deeper. No one is worthy to be near the presence of God. In other words, there is a chasm between God and humanity. Without this chasm being bridged, there is no hope for us as a human race. This is why John begins to 'weep loudly' (v4). No one is worthy!!
The God Given Solution (v5-8)
Thankfully, the picture doesn't end here. Why? Finally one is found who is worthy to open the scroll. Who? The one who is esteemed as worthy is depicted in two ways. They are the lion (v5) and they are also the lamb (v6). Isn't this strange imagery? These are two apparently contradictory ways of describing someone. Yet it shows us something about the one who is worthy and what he is like. He is powerful and strong yet he is also humble and sacrificial. In fact, this lamb has the very wound marks to show for his battles. What does this worthy one do next? Astonishingly, he has the audacity to 'take the scroll from the right hand of him who sits on the throne' (v7). If anyone else in heaven or earth dared to make such a move, they would be immediately consumed. But the lion who is the lamb is the only one who is worthy. They are the only one who can bridge the chasm between sinful humanity and a holy God.

Of course, this one being described is Jesus himself. He is the lion and the lamb. He is the one who bridges the gap between sinful man and Holy God. How was this accomplished? Through his sacrifice on the cross which we remember at Easter time. Praise God for the one who is worthy. Without him, we are helpless and would be forever damned to a lost eternity.
The Necessary Response (v9-14)
In light of God's provision of one who is worthy, how should we respond? The scene in Revelation 5 is pretty clear. Read through verses 9-14 again. What we see is that, upon the work of this lion who is the lamb, heaven erupts in praise. The 4 living creatures and elders fall on their faces, play music and sing joyfully! It is a picture of unceasing worship!
In light of God sending his own son, Jesus Christ, the one who is worthy, this is exactly how you and I should respond today! As we take some time off from school/uni/work and perhaps attend various worship services this week, let us continually be thankful to God for the reminder that, because of the Easter story, there is a way for sinful man to be in the presence of a Holy God!
Questions For Reflection
This passage reminds us that no one, in and of themselves, is deemed worthy to have access to the presence of God. How does this humble you this morning?
What does it mean to you that Jesus is both the lion and the lamb?
Because of Jesus Christ, the worthy one, we can have a restored relationship with the God who created us. How does this cause you to worship him today?